Stéphane Ducasse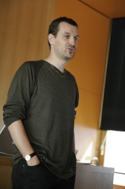 Improving user's expertise with user interfaces
2nd Apr 2014, 2:00pm - 3:30pm
Ada Lovelace/PCRI, Salle 445 (how to get there?)
Abstract
Pharo http://www.pharo.org is at the same time a dynamic programming language, living programming environment and a kind of OS.
Pharo is fully open-source and runs on main platforms. It has a vibrant community of developers, companies and research groupes from all over the planet. Phaor is used to teach programming in more than 15 universities.The web stack of Pharo around Seaside (http://www.seaside.st) and now amber (http://amber-lang.net) allows developer to design and deploy complex and dynamic web applications ( http://yesplan.be or http://netstyle.ch). Ealry in 2000, Squeak the Pharo ancestor has been used to develop experimental interaction systems. Recently Pharo has been used to develop applications for tabletop and other touch oriented devices (http://home.cc.gatech.edu/je77/287). During this presentation I will present the current state of the system, show the infrastructure improvements and sketch our vision. From that perspective, Pharo could really be a platform to design and validate new HCI experiences. Now the Pharo team is a language design and compiler team and this talk is an invitation to invest in Pharo and change our world.
Biography
Stephane leads the RMoD (http://rmod.lille.inria.fr) team. He is expert in two domains: object-oriented language design and reengineering. He worked on traits, composable groups of methods, and this work got some impact. Traits have been introduced in AmbiantTalk, and Squeak/Pharo, Perl, PHP and under a variant into Scala, Fortress of SUN Microsystems. He is one of the developer of Pharo http://www.pharo.org/ a new dynamic language used in industry and academia. He is also expert on software quality, program understanding, program visualizations, reengineering and metamodeling. He is one of the developer of Moose, an open-source software analysis platform http://www.moosetechnology.org/. He is working with http://www.synectique.eu/ a company building dedicated tools for advanced software analysis. According to Google scholar his h-index is 46.