Sean Follmer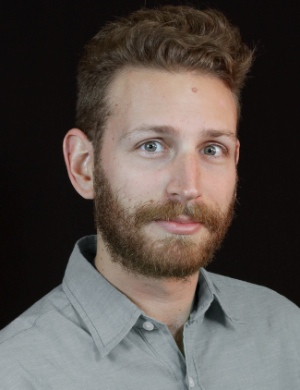 Designing Material Interfaces: Redefining Interaction through Programmable Materials and Shape Displays
December 16th, 10:30
Digiteo Moulon building (660), Conference room (entrance) (Access behind the PCRI building. How to get to there ? )


Abstract
Interaction design is at a crossroads. As we move towards more convergence in our devices, our devices have become increasingly reliant on touch screen based interaction, neglecting their physical form and spatial relevance. Lessons from industrial design and cognitive science suggest another direction - interfaces that are physically embodied.


My talk will explore three questions: 1) How can we bring interaction into the physical world for tasks like design and remote collaboration? 2) How can the physical form of devices physically adapt to fit the context of their use? 3) How can Ubiquitous Robotic Interfaces be embedded into our home and work lives to allow for rich physical interaction and context aware display.


I believe that shape-changing and deformable interfaces can address the lack of physical affordances in today's interactive products and devices. My work maps out a conceptual space of Dynamic Affordances, describes new interactions with shape changing interfaces motivated by the careful study of users today and expert designers working with physical materials, and begins to evaluate how these new interfaces and devices can help users. In order to prototype these interactions I develop technologies for programming material properties (stiffness, shape, color, etc.) and embedded shape sensing, taking inspiration from fields like Soft Robotics, Material Science, and flexible electronics.
Biography
Sean Follmer is a human-computer interaction researcher and designer. He is an Assistant Professor of Mechanical Engineering and (by courtesy) Computer Science at Stanford University, where he teaches the design of smart and connected devices and leads research at the intersection between human-computer interaction (HCI) and robotics. Follmerreceived a Ph.D. and a Masters degree from the MIT Media Lab in 2015 and 2011, respectively, and a BS in Engineering from Stanford University. He has worked at Nokia Research and Adobe Research on projects exploring the frontiers of HCI. Follmer has received numerous awards for his research and design work, including best paper awards and nominations from premier academic conferences in HCI (ACM UIST and CHI), Fast Company Innovation By Design Awards, a Red Dot Design Award and a Laval Virtual Award. More information can be found at shape.stanford.edu