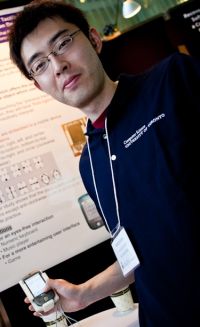 Koji Yatani
Date 17/01/2011, Time 14:00-15:00, Location LRI Bât 490, Salle 79 (how to get there ?)
Abstract:
Mobile touch-screen devices have the capability to accept flexible touch input and can provide a larger screen than mobile devices with physical buttons. However, user interfaces on mobile touch-screen devices heavily require visual feedback. This raises a number of user interface challenges. For instance, visually-demanding user interfaces make it difficult for the user to interact with mobile touch-screen devices without looking at the screen, a task the user sometimes wishes to do particularly in a mobile setting. In addition, user interfaces on a mobile touch-screen device are not generally accessible to visually-impaired users.
I have been working on addressing this issue of high visual demand found in existing user interfaces on mobile touch-screen devices by using spatial tactile feedback. I developed a tactile feedback mechanism employing multiple vibration motors on the backside of a mobile touch-screen device. These multiple vibration motors are embedded in different locations of the backside of the device to produce various spatial vibration patterns on the user's fingers and palm. In the talk, I present two systems enhanced by this spatial tactile feedback mechanism.
I also briefly present a couple of recent work: an eyes-and-hands free interaction technique for mobile devices and a summarization tool for online user reviews.
Bio:
Koji Yatani (http://yatani.jp) is a Ph.D. candidate at Dynamic Graphics Project (DGP), Department of Computer Science in University of Toronto. His research interests lie in Human-Computer Interaction (HCI) and ubiquitous computing with an emphasis on hardware and sensing technologies. More specifically, he is interested in developing interactive systems for mobile devices, and developing new hardware and sensing technologies to support user interactions in mobile/ubiquitous computing environments. He is also interested in understanding user practices and uncovering problems in difficult interaction contexts through quantitative and qualitative approaches.
He received B.Eng. and M.Sci. from University of Tokyo in 2003 and 2005, respectively. He was a recipient of NTT Docomo Scholarship (from October 2003 to March 2005), and Japan Society for the Promotion of Science Research Fellowship for Young Scientists (from April 2005 to March 2006).